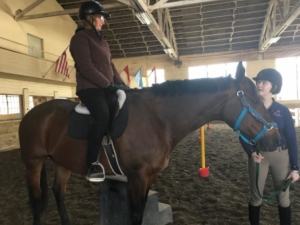 Click the picture for the full April 2016 newsletter!
---
At RHR, our equine partners are an essential part of our therapy team. To ensure that each horse in our program is safe and has beneficial movement qualities, each horse undergoes a comprehensive evaluation and must pass with flying colors to become part of our team. Every horse needs to be safe for use with children who may be very different from the able bodied lessons the horses are used to. Each horse is evaluated for general behavior and ground manners, conformation, biomechanics, movement qualities, and the horse's reaction to our various therapy tools and toys used in sessions. Additionally, they need to be comfortable surrounded by our therapy team!
Equally important is the horses happiness as a member of our therapy team. While some horse love their job, others decide this work is not for them! Ultimately, it is our responsibility to recognize what the horse is feeling so we can accommodate their needs too. Therefore, the evaluation process is ongoing to keep everyone safe and happy!