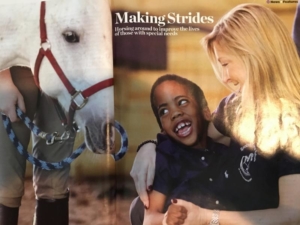 Click the picture for the full October 2016 newsletter!
---
This month, Rocking Horse Rehab was honored to be featured in Inside Jersey magazine.  The article features hippotherapy centers in New Jersey, including us!
The article features photos of some of our staff and interns, including Sheri, Brittney, Nicolette, and Kathy.  Also included are some of our clients from 1st Cerebral Palsy of Belleville!  There are multiple photos of our wonderful pony, Tetley, as well.  The entire article is linked below.